Looking for your next app idea?

What they're doing
on monday.com
Centralizing all the resources, calendar
and tools in one place
Having one source of truth for their plans,
actual work, and communication
Coordinating and executing launches
and campaigns
Managing requests and production processes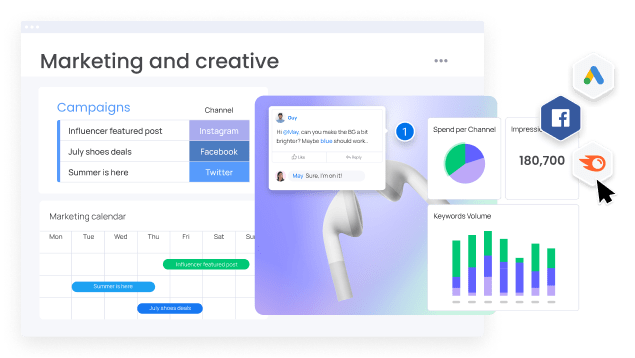 CMO

Head of marketing

Marketing manager

Product marketer

Content writer

Creative manager

Designer

Video producer

Video editor

*The ideas are provided "as-is" and without warranties or representations of any kind, express or implied. monday.com may already be aware of similar or identical concepts and ideas, which is shared with monday.com, and that monday.com and any third party is free to develop similar applications and ideas, and you or any third party will have no claim against monday.com in connection with the above.
Not there yet?
Explore even more ideas submitted by our community
Great app ideas
are appreciated
by monday.com users